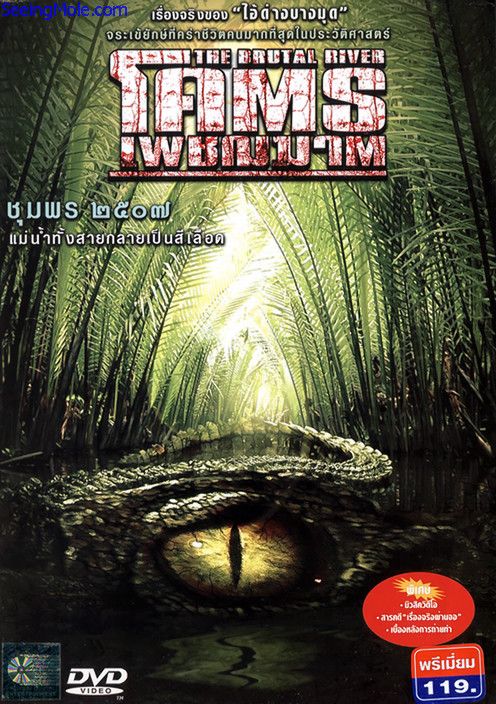 โคตรเพชฌฆาต
The Brutal River
ผู้กำกับ
อนัต ยวงเงิน     IMDb - Thai Film Database
นักแสดงนำ
เก่ง - ชาติชาย งามสรรพ์     วิกิพีเดีย - IMDb - Thai Film Database
จิ๊ก - จิรภัทร์ วงศ์ไพศาลลักษณ์     IMDb - Thai Film Database
เรื่องย่อ
สร้างจากเรื่องจริงของจระเข้ยักษ์ดุร้าย อาละวาดฆ่าคนจนเป็นข่าวสะเทือนขวัญที่สุดในประวัติศาสตร์
ปี พ.ศ.2507 ได้เกิดเหตุการณ์ สะเทือนขวัญในละแวกคลองบางมุด อ.หลังสวน จ.ชุมพร หนังสือพิมพ์หลายฉบับพากันพาดหัวข่าวยาวนานหลายเดือน ชาวบ้านหวาดผวาไม่กล้าลงน้ำเป็นแรมปี พวกเขาจะทำอย่างไรเมื่อท่าน้ำหน้าบ้านกลายเป็นสุสานของคนที่รัก และทางน้ำซึ่งเปรียบเสมือนทางสายหลักเกือบกลายเป็นทางร้าง
Director:
Anat Yuangngern     IMDb - Thai Film Database
Cast:
Chartchai Ngamsan     Wikipedia - IMDb - Thai Film Database
Chirapat Wongpaisanlux     IMDb - Thai Film Database
Plot Synopsis
In the 1960s, there were few places on Earth as quiet and peaceful as Thailand's Chumporn province, where people continue to live life the old country way. This tranquility is shattered the day an unknown dead man's body is found along the banks of the river waterway. Soon after, villagers began to mysteriously disappear for no reason. The local people endeavor to learn the cause of the disappearances and the identity of the unknown stranger. While trying to track the unknown murderer, strange tracks are found, which could have only been made by some sort of huge animal.
Links:
วิกิพีเดีย
IMDb 5.0
Thai Film Database
Siam Zone
NangDee.com


YouTube trailer, behind the scenes, OST music videos
ภาพยนตร์ตัวอย่าง เบื้องหลังการถ่ายทำ มิวสิควิดีโอเพลงประกอบภาพยนตร์
ซื้อภาพยนตร์ดีวีดีเรื่องนี้ได้ที่
Buy this Thai DVD movie here:
Please help contribute your support for me to buy new movies to upload to this site by clicking on the banners below. I've tried to find other alternative non adult banners, but most banner networks will reject warez type of site like this. Please understand my decision to put the banners here.
ผมได้ตัดสินใจลงระบบ banner ของ PlugRush นะครับ ถ้าอยากจะช่วยสนับสนุนผมเล็กน้อย รบกวนกดตรงรูป banner หน่อยนะครับ ทุกครั้งที่แวะเข้ามาก็กดครั้งสองครั้งก็พอแล้วละครับ ถือว่าเป็นการให้กำลังใจและช่วยสมทบทุนให้ผมหาซื้อหนังมาลงเพิ่มเรื่อยๆ
Download English subtitles for The Brutal River
opensubtitles.org
subs.thbrtlrvr.en.rar
subs.thbrtlrvr.en.rar
ดาวน์โหลด Download this movie DVDRip avi mkv mp4 mov:
Source: DVD5 PAL
File Format: MKV
Video Codec: x264 core130 r2273
Resolution: 704x400
Frame Rate: 25 fps
Video Bitrate: 1693 CRF=18.0
Audio: 5.1 AC3 224
Subtitle: English
Video Runtime: 1 hour 26 mins
File Size: 1.15 GB
Password to the files is: SeeingMole

Uptobox.com
thbrtlrvr.part1.rar
thbrtlrvr.part2.rar
thbrtlrvr.part3.rar
thbrtlrvr.part4.rar
thbrtlrvr.part5.rar

FileFactory.com
thbrtlrvr.part01.rar
thbrtlrvr.part02.rar
thbrtlrvr.part03.rar
thbrtlrvr.part04.rar
thbrtlrvr.part05.rar


Megashares.com
thbrtlrvr.part01.rar
thbrtlrvr.part02.rar
thbrtlrvr.part03.rar
thbrtlrvr.part04.rar
thbrtlrvr.part05.rar
Password to the files is: SeeingMole

Firedrive.com (Former Putlocker)